General Dentistry
at Dentalcare Pangbourne
NHS and private dentistry available in Pangbourne
No matter whether you're an NHS or private dental patient, at Dentalcare Pangbourne we believe in offering all our patients the same high level of quality care.
NHS dental patients
We believe in dental care for everyone and that's why we're proud to still support and offer NHS dental services.
Private dental patients
Some forms of treatment such as the cosmetic dental treatments are not available on the NHS and so need to be paid for.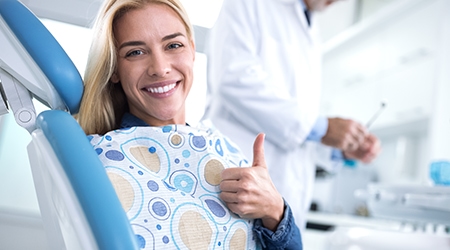 Book your appointment for General Dentistry
General dentistry treatments available in Pangbourne
At Dentalcare Pangbourne, we offer a range of dental treatments. Some are cosmetic dental treatments which will aim to improve the appearance of your smile and teeth. Other more general forms of dentistry will focus on your oral health and general well-being. Examples of general dentistry treatments include:
Regular check-ups. The essence of what we do is taking care of your teeth and gums. A general check-up should occur every 6 to 12 months and is used to review the health of your teeth and gums and used as a way of checking your overall health. We base a lot of our work on preventative measures for example to prevent tooth decay and gum disease to avoid more complicated problems further down the line.
Dental crowns. If you have a broken or decayed tooth, a dental crown can be used to repair it. Made from porcelain, dental crowns are strong and have a natural appearance. Your tooth is prepared by cleaning and shaping. Your dentist will then take an impression of your tooth so that a bespoke crown can be built to replace your original tooth. You may be given a temporary crown to wear in the meantime. As well as aesthetic purposes, a crown can strengthen your tooth and improve your bite
Dental fillings. If you have lost part of your tooth through decay or wear and tear, your dentist may recommend a filling. Fillings are made from either amalgam metal or white composite material and your dentist can discuss this with you in more detail. White fillings are more discreet as they blend in with your natural teeth colour but they will incur a cost as they form part of the private cosmetic dentistry. Your dentist will numb the affected area with a local anaesthetic and then prepare the tooth using a fine drill. The filling will then be applied to your tooth and bonded to the enamel using a special form of putty. This ensures that the filling remains in place. The entire process takes about 30 minutes.
Root canal. If you have a large cavity which affects the inner part of the tooth containing the nerves, you may need root canal treatment. If bacteria enters and destroys the nerve, it can become very painful and lead to the formation of an abscess. We remove all the infection from the root canal to prevent the spread of infection to save the tooth from being extracted. This is carried out by a fine drill that entering the root via your tooth. The root is then filled and sealed to stop the problem from occurring again. You will be given a local anaesthetic to numb the area.
Dental emergency. We understand that a dental emergency can be frightening and that's why we will see every dental emergency within 24 hours of you calling our surgery. Common dental emergencies include a chipped or broken tooth, abscess and toothache.
Hygienist. Our hygienists form an essential part of keeping your teeth and gums healthy. Whether you need a thorough clean to remove stains from your teeth using our innovative new Airflow polish or if you need extra help and attention with looking after your gums to prevent gum disease, our hygienists can help.
Dental extractions. This is a common procedure that our dentists provide either because the tooth is failing and needs to be removed or because it is part of a planned treatment such as for orthodontic work or for the placement of dental implants.
Dental fees
At Dentalcare Pangbourne, we treat every patient as an individuals, therefore each treatment plan is completely bespoke. 
Finance
We offer finance options because we believe everyone should be able to benefit from high-quality dental care.
Before & after
We are often told by our patients that the dental treatments we have provided has dramatically improved their quality of life.